Do I Need To Take The SAT?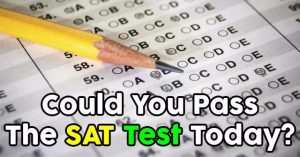 Original Article Posted on February 16, 2017 at 
The Study Hall - Do I Need To Take The SAT?
NOW is the time for all juniors to start planning for how they will prepare for the upcoming SATs. The state has required ALL juniors attending public schools to take the SATs.  The months of February and March are essential for all juniors and every student who plans to take the SATs on this date. Many students make the mistake of thinking they do not need to open a book, go on-line, or spend any time reviewing SAT material.  Unfortunately, it is a rare student who does this and does well on the SATs.  Without exposure to the material, strategies for taking the test, and doing several practice tests, students simply will not do as well as they could.  Even if they took the PSATs, which allows them to see how they may do on the SATs for the Math and part of the Verbal section, the PSATs do not require the students to write an essay, which is required on the April 5
th
SAT.  By not preparing, students often get more anxious and feel more stressed about taking the test.   By eliminating the mystery of the test, knowing the format and content of the test, students can relax and allow their brains to bring forth the information that will help them to maximize their scores. In essence there are three ways a student can prepare.  A motivated individual could purchase SAT prep books from a bookstore or go on-line to do the "do-it-yourself" preparation.  This is great for an extremely bright and motivated student.  A second method is to take classes to help with preparation.  Some classes have one tutor who does all of the sections and strategies, while others, like The Study Hall, has different tutors specifically trained in each particular section and allows students to take classes in sections.  By offering different classes for students, students can determine where they really need the extra help and concentrate on those areas.  If a student did really well on the PSATs in Math, they may not need to or want to spend as much time reviewing this section and could work on the Verbal portion.  The last way a student can prepare is by doing one-on-one tutoring to target specific areas of weakness.   Individual tutoring is most effective when students have some scores to work with; again, Club Z Tutoring Santa Monica is available for students. Original Article Posted on February 16, 2017 at 
The Study Hall - Do I Need To Take The SAT?