How To Prepare Academically For College
If you're in high school, enrolling in the right classes, practicing good study habits and preparing for your standardized testing are crucial steps you need to take to prepare for your college career ahead. If you're looking to make sure you're ready to take on the challenges of college, these tips will help: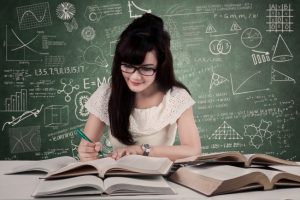 Take the right classes during high school
What are the right classes in high school? The courses required for college vary. If you know what college you're aiming to get into, speak with your guidance counselor or a college representative to make sure you are on the
right track
. Colleges want students who are well-rounded when it comes to education. Be sure to take more challenging classes so you can get a better idea of what college courses may be like.
Practice good study habits
Practicing good study habits from the start, will set you up for success come college time. It's important to establish a good routine, so you don't experience too much of a transition or culture shock when you start your higher education. If you're looking to improve your study skills,
Club Z! can help
.
Some other tips to help you study include:  
Staying organized by creating a "to-do" list.

Setting goals for yourself and taking small steps to get there.

Learning how to prioritize.

Experimenting with your study routine--Do you work best alone or in a group? Are you most productive in the morning or at night? Try it out and see what works!
Improve your writing skills
Effective writing is an important skill that you will always use throughout your life. Your ability to convey your thoughts into words and be an effective communicator is invaluable.
To improve your writing skills you should:
Consider your audience and adapt your tone accordingly.

Plan ahead and create an outline and what points you want to make.

Develop a strong opener to catch your reader's attention.

Be clear and concise and eliminate unnecessary words.

Check for errors and typos.
Of course, combining all of these elements with making sure you are prepared for your
SAT
or
ACT
tests are the best ways to ensure you're ready for college. And Club Z! Santa Monica can help with that! If you're having trouble in a particular subject, are looking to improve your study skills or want some tips on how to ace your college entrance exam, give Club Z! a call! To sign up for your first FREE session, or to learn more about how we can help you prepare for college, visit our
website
.